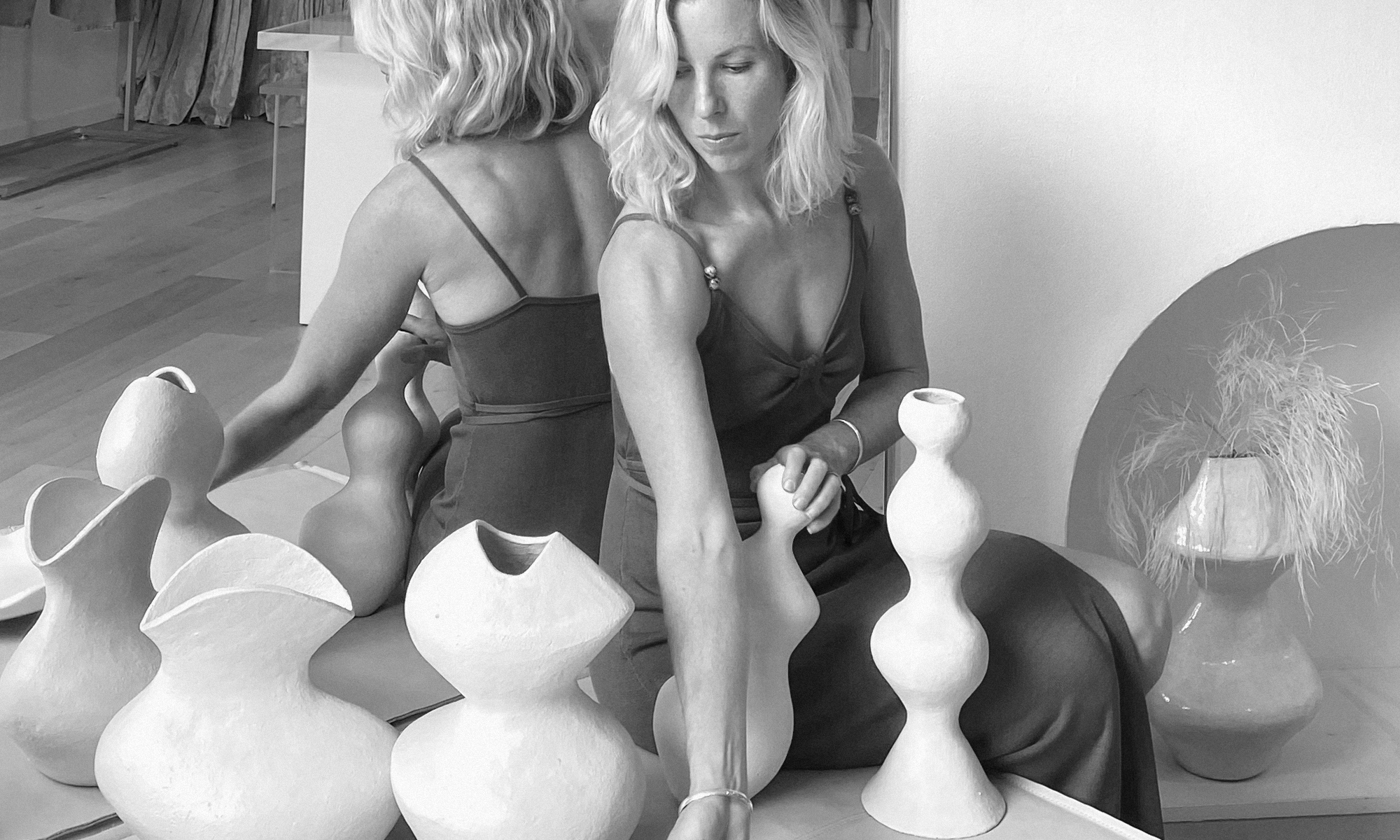 V&W PORTRAITS
SOPHIE NOLAN
As we approach the season of gifting, we are pleased to introduce our ever evolving collaboration with Sophie Nolan, founder of Sophie Ceramics. Residing in Sydney's northern beaches, Sophie creates one-of-a-kind, curved vessels inspired by the female form. Using traditional ceramic techniques, each piece is handcrafted to embody its own presence and personality. To mark our most recent partnership, Sophie reflects on her varied career path, creative processes and how these inspire her sense of style.
Your creative career spans visual communications, running a graphic design business and becoming a self-taught ceramicist. Can you tell us more about your transition to launching Sophie Ceramics?
After many years of bringing a client's vision to life through graphic design, I was searching for a new creative outlet and a chance to create from my own brief. After a chance lesson from a friend, I became enamoured with clay. In contrast to graphic design and working predominately on computers, I was seduced by the messiness and tactile quality of clay. I am largely self-taught in ceramics, supplemented with one on one lessons and short TAFE courses. I just kept making vases and trying out different shapes and forms. Anything I was unsure of, there was always a YouTube video to assist. Soon, what was once a pinch pot hobby blossomed into a full-time passion. Ceramics became the perfect avenue to freely express myself creatively.
Growing up, your parents owned a homewares store, do you think this influenced your appreciation for interiors? Do you feel your children will similarly inherit a creative passion?
I think being surrounded by beautiful interiors at home and in the store definitely had an impact on my interest for interiors. Our home was always filled with an abundance of art, interior books and magazines. My mother was always rearranging and styling decorator items in and around our house as well as arranging gorgeous, dramatic floral displays in vases and styling stunning table settings when entertaining. She has an amazing flair for styling that I love to watch and admire. I guess a little has rubbed off on me.
My girls all have their own ways of expressing themselves creatively that is a joy to behold. My 6 year old's favourite thing to do is draw and do craft. She dreams of being an art teacher. My 12 yr old has her own little beading business and my 14 yr old wants to design her own swimwear brand…. so who knows! I think it is so important to find some way to be fulfilled creatively as it has an extraordinary flow-on effect to other aspects of your life.
Each of your creations are unique. Can you tell us about your creative process when crafting each piece?
First I begin with a desired shape, emotion, or characteristic in mind before sketching out the shape in angles and curves. Then, to slowly mould the desired form using slab building and coiling techniques, allowing the shape to emerge. If I am creating a commission, the client has usually chosen a piece that they like and we chat about the feeling they want from it and where the piece will end up. Whether the vessel will have soft sensual curves for a bedroom or dramatic bold angles to make for an impactful entrance. After I am happy with the shape, the forms are then left to dry for a few days to a week, they are then bisque fired, glazed, and fired again.
Individualism is a consistent theme in your work. Is this mirrored in your approach to fashion & style?
I think it's always a bit of fun to dress with a touch of WOW factor. Whether it be a striking colour or cut, or a bit of metallic sparkle. I guess its just another creative outlet, an opportunity to express your individual style.
What challenges stand out from when you moved from running a graphic design business to launching Sophie Ceramics? What is your proudest achievement as a ceramic artist?
I was quite lucky to have quite a seamless transition to launching Sophie Ceramics full time. My only difficulty was having to say goodbye to some lovely long term design clients whom I loved working with.
I have been fortunate enough to have had quite a few 'pinch me' moments with my ceramics. Collaborating with V&W of course - it is an honour to be associated with such an elegant, high-end fashion brand. Being a contributor to VOGUE Australia was another highlight and exhibiting at Michael Reid Gallery has been an amazing experience. Every time a client or friend tells me how happy they are with their piece, or sends me a photo of where they have placed their piece, it fills me with so much joy!
You often speak of seeking inspiration from the human body's beautiful imperfections and diversity. What advice would you give to women to embrace their own individual form?
Celebrating our physical and personality idiosyncrasies without judgment or comparison brings so much freedom, and with that self-confidence, to be your own beautiful self. If we all had the same skin colour, proportions and height life would be boring. There is so much beauty to behold in our individual shapes, essence and energy. Through my vessels I seek to give fluidity and personality to a functional form. To become a sculptural object that captures the wondrous nature of our individual quirks and precious uniqueness. Some have a subtle soft elegant essence, a lightness, a fragility or slight awkwardness. Others are more flamboyant, sassy, strong, bold or cute, quirky and fun.
Having not always had an amazing sense of self-worth myself and being a mother of 3 girls I feel that now, more than ever, I'm on a bit of a mission to dispel illusions of perfectionism and instil a message of self-love and resilience.
Find a selection of unique Sophie Ceramics piece's at our Armadale & Paddington Boutiques.