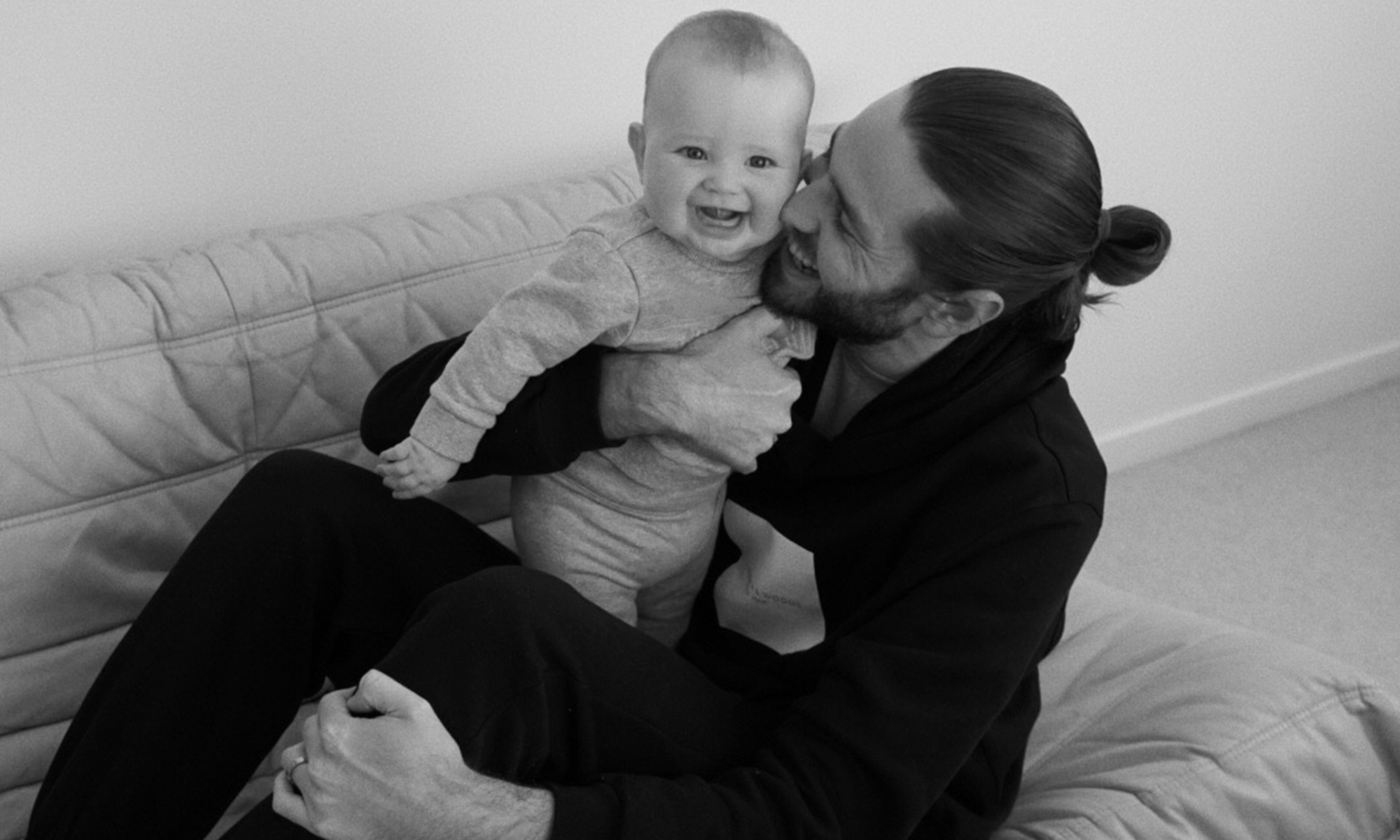 CELEBRATING FATHER'S DAY
IN CONVERSATION WITH: SAMMY LEETHAM
Byron Bay, NSW
Sammy Leetham is a Melbourne-born entrepreneur, co-founder and director of sustainability and innovation at modern Australian lifestyle brand, BEAR.
He resides in the Byron Bay hinterland with his wife and close friend of Viktoria & Woods, Saasha Burns. Earlier this year, the couple welcomed their son Atlas into the world.
In celebration of his first Father's Day, Sammy reflects on his journey into fatherhood.
Sammy wears the Anniversary Hoodie & Mercy Track Pant from our Unisex 1.0 collection
How will you celebrate your first Father's Day with Saasha & Atlas, will you start any new traditions?

I'm looking forward to spending quality time together as a family for my first Father's Day. With BEAR, it's not often that we genuinely switch off from work. I hope to spend a slow morning together at home, followed by a walk to our local cafe for a coffee, and then head to the beach to relax and simply enjoy the day.
Time spent being present with Saash and Atlas is the greatest gift.



What does modern day parenting mean to you?

Children help put everything in perspective and no matter what challenges arise with our business, Atlas always comes first. Family really is everything and we feel incredibly fortunate to structure our work hours around caring for Atlas.
It's definitely a balancing act for Saash and I both working full time, but it's so important to us that we both play an active role in raising him. We try and be as present as we can when with Atlas, separating work and finding a sense of balance at home. I absolutely love play time with Atlas, and seeing his face light up is everything.
Both Saasha and yourself have a wonderful respect for the environment, which all of us at V&W are inspired by. What values do you hope to instill in Atlas?


Our mornings always start with a long walk out in nature while Saash gets some much needed sleep - it's one of my favourite rituals with Atlas. He is so curious and loves seeing all the plants and trees.
We then come home and water the garden together and play with our husky, Minnie. We have a little herb and vegetable garden, and a few banana palms in our backyard. Everything is starting to grow and bloom again as Spring approaches. Raising Atlas in the Byron Bay hinterland there's a great sense of community and strong connection to the land and ocean.
We hope to teach Atlas to have a deep respect for nature and to help protect the environment. We are conscious of our impact on our planet, and are actively learning and unlearning every day. We hope to raise Atlas to be kind to others, to have a curious mind, an adventurous spirit, and an open heart. To be both gentle, and strong. To always follow his dreams and to live life to the full.



Has your wardrobe evolved since becoming a father?


My wardrobe is always naturally evolving, and changes depending on where I am in the world. In Europe, I wear a lot of linen, and in the US I'm always drawn to denim, tees and sneakers.
At home in Byron, I always dress for comfort and love a great oversized jumper. The Viktoria & Woods Unisex 1.0 collection is perfect for both home and the studio - from meetings to playing with Atlas in the park.
Saasha wears the Anniversary Crew & Mercy Track Pant from our Unisex 1.0 collection
How are you balancing your business BEAR with fatherhood?

It's an ever evolving journey, and it changes week to week. As a newborn, Atlas was more dependent on Saash, but he's now full of energy and just wants to play all day. He loves spending time with both of us together, and having our full attention, which isn't always easy when running a business. We are constantly learning and adapting - a little more sleep is helping now too.
Fatherhood has shown me just how precious our time and energy is. Every minute we spend working is time spent away from Atlas. I've learnt to be even more organised, efficient, and only invest in opportunities that genuinely move the business forward.


What is your favourite pastime with baby Atlas?

We love getting outdoors as much as possible, from walks around our neighbourhood to our favourite beaches. He's also beginning to understand FaceTime, and seeing him smile and laugh as we catch up with our family interstate always brings so much joy.