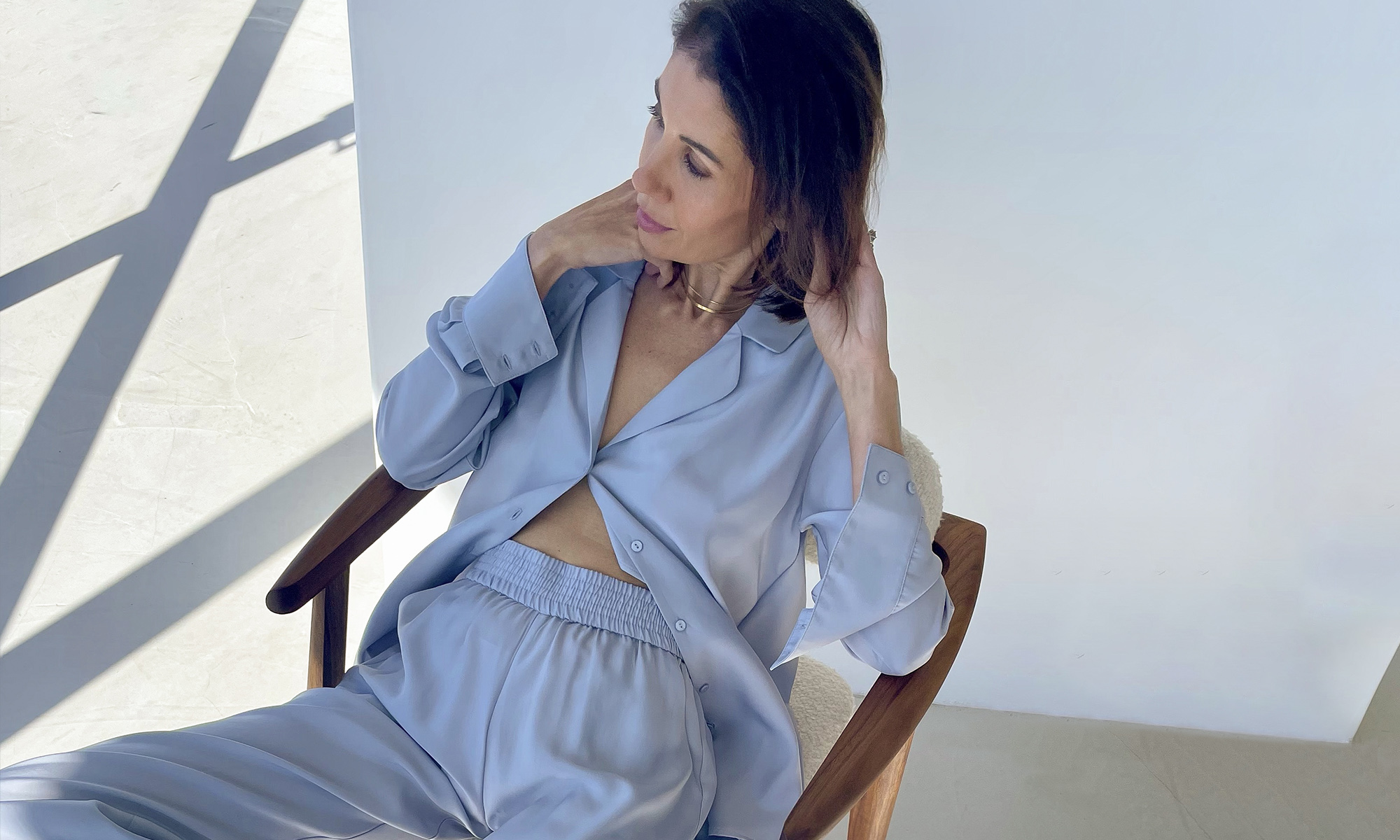 In Conversation with:
Lissy Graham
Introducing WA-based fashion industry leader Lissy Graham. An influential networker and fashion figure, Lissy shares her refined, elegant style with authenticity and confidence. Lissy is also a proud mother of three and after spending many years overseas, now calls Perth home. Viktoria & Woods muse Lissy reflects on her sense of style, finding confidence and gives us insight into the Western Australian retail landscape.
Lissy wears the Falcon Shirt, Pilot Pant & Hudson Slide from Spring 21.
How would you describe your approach to fashion? How has your style developed over time?
My approach to fashion is very simple; keep & share. I buy pieces I know I will want to wear season after season and keep in my wardrobe but also to share with my daughters Mitty & Soph. I'm also interested in the fashion supply chain and knowing where my clothes come from. I feel as a mother and fashion consumer that there is an obligation to ask questions and push the industry to be better.
Over time my style has definitely evolved and that's mainly because I know my body so well now. Whilst I might be a chameleon when it comes to trends in fashion, I genuinely know what suits me. I'm what you would call tonal.
Where do you seek creative inspiration? Being based in beautiful Western Australia, are you influenced by your surrounding climate & landscape?
I'm very visual and I absorb whatever is around me, I love to watch everything from people to nature and being a Western Australian native, I'm spoilt with both. Because of the current travel climate, I've had the opportunity to explore the Pilbara region in WA extensively and I'm blessed to have a dear friend who is a Yawuru woman who's taught me to listen, look & learn and work with what's around me rather than in competition with it.
Your style is mirrored with a sense of confidence. When do you feel you are most confident? What advice can you give other women and men to celebrate & be confident in their individual styles?
For me, I honestly feel most confident when I'm in clothes I love. That and a fresh wash & blow-dry. My introduction to social media was accidental and I was living in Singapore at the time. I was always in awe of how confident women in Asia looked and I definitely took a few tips away from buying what you love the moment you see it, to tailoring your clothing so it fits perfectly. My advice to others is to have fun with fashion but also be mindful of what you are buying. A cashmere knit or the perfect pant in my case, the Bramwell pant, may seem like an investment but it's those go-to pieces that you can just put on that often make you feel your best.
You grew up being inspired by your fashionable mother & auntie. Do you feel creativity and flair are passed down each generation and do your children share your same love for fashion?
I'm very lucky to have been surrounded by stylish women, my mum & auntie in particular, who both had this effortless way of pairing a pussy-bow blouse and tweed trousers and making it look like they came up with the trend. My two girls, Mitty & Soph share my love of fashion. Mitty is a University student and her flair for building her unique wardrobe has made me so proud. She's very mindful of what she buys and she often inspires me to push the boundaries. Soph is fifteen and a butterfly. She can literally wear anything and the three of us share our wardrobes. It's how we explain to my husband 'cost per wear'.
We are very proud to expand our growing retail presence in Western Australia, with the recent launch of V&W Claremont and the upcoming V&W Karrinyup Boutique. How is the Western Australian retail landscape is evolving?
Our geography sets us apart from any other state. We are as close to the eastern states as we are to Asia and given the events of the last 18 months, WA has had the luxury of foot traffic through our retail spaces as we haven't suffered the restrictions other states have. There is an interplay between economic, social, and technology. E-commerce has allowed us to shop virtually whilst still having that in-store experience. The new VW boutiques combine both and the relaxed, elevated style of dressing is very much at home in WA. I almost feel like VW Spring 21 is mirrored on WA's colourful, muted landscape, from the earthy tones you would find up north, to the endless blues along our coastline.
Tell us about the pieces you have chosen from our Spring 21 Collection and how you wish to style them this season?
The Devotion Cami, Bramwell Pants, Sistine Corset & Stargazer Trench are my season-less must haves. I've built so many looks around these four pieces and when I started planning my spring wardrobe, they were the backdrop. This spring I'm excited to add V&W beautiful Falcon Shirt & Pilot Pant in ice blue. It's a perfect way to add a little colour into a tonal wardrobe, while separates give you so many outfit options. I'll be teaming this with the cult Hudson Slide in ivory which I simply can't live without.