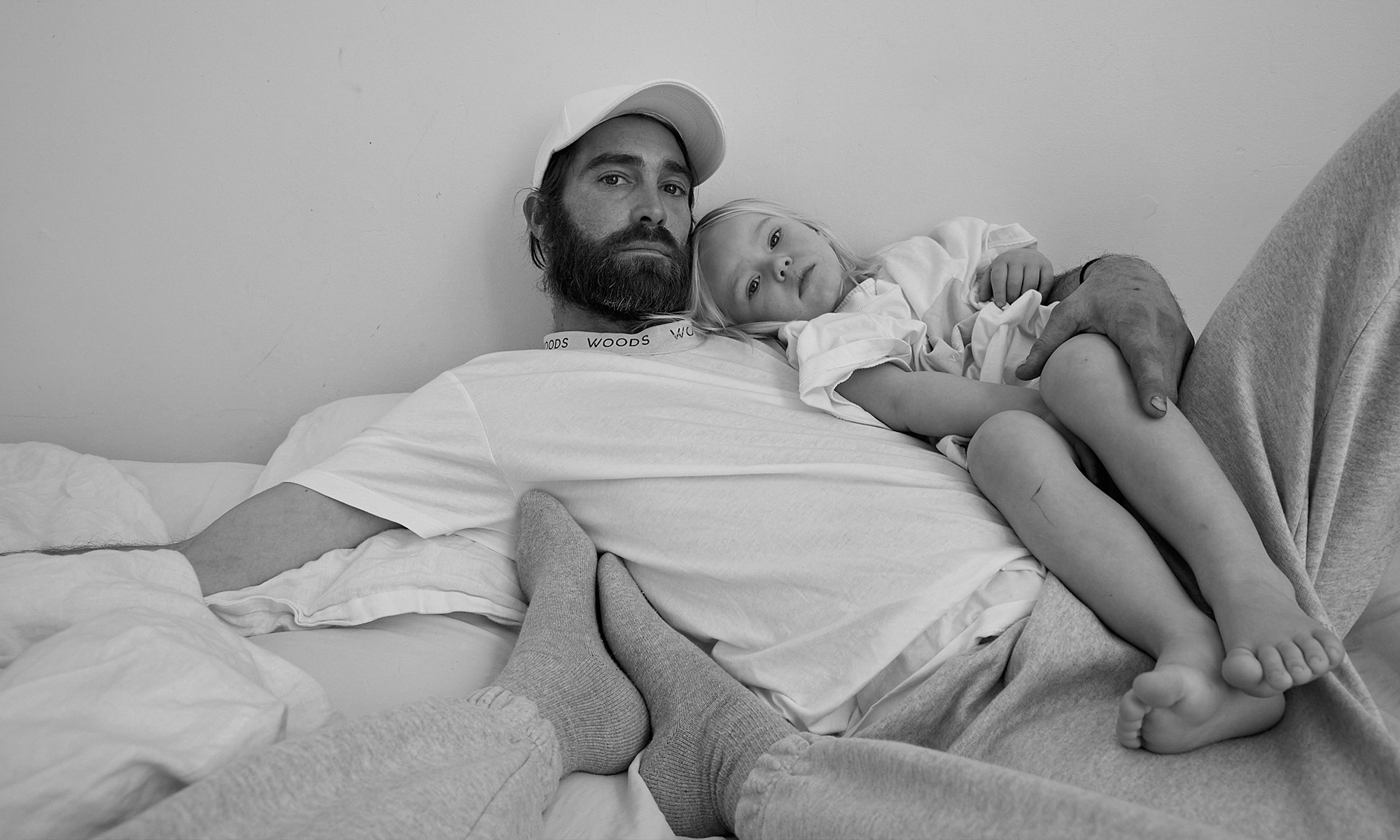 CELEBRATING FATHER'S DAY
IN CONVERSATION WITH: TIMOTHY CHALLONER-CULPIN
Melbourne, VIC
Timothy Challoner-Culpin is the founder and director of LANDSCAPE CO, a landscape design and construction company. Tim and his partner, our V&W muse, Ivana Martyn-Zyznikow, are based in Melbourne with their two year old son Winston. Excitingly the couple is expecting their second addition later this year.

In celebration of Father's Day this Sunday, Tim reflects on his journey into fatherhood.
Tim wears the Unisex WOODS Tee, Mercy Trackpant & WOODS Cap from our Unisex 1.0 collection.
Winston wears his mum's archive V&W Anniversary T.
How will you celebrate this Father's Day with Ivana & Winston?

I'd say a picnic with the family on the back lawn. A tartan rug and a good charcuterie board with French cheese and wine, while we blow bubbles for Winston.

What does modern day day parenting mean to you? Do you think there has been a generational shift in what it means to be a father today?

Yes I believe there has been a big shift. I'm loving having more time with our son while mum is out working. As a father I spend a lot of time with Winston. These days most learning seems to have become screen focused, whereas I am of the more traditional mindset and prefer to focus on enjoying hands-on physical activities together.
If you could pick just one characteristic or talent of yours, and one from Ivana that Winston could inherit, what would these be?

Oh that's a tough one, especially with Ivana. I really can't think of any. Joke, joke! But seriously, if I did have to choose one for Ivana, apart from her beauty, it would be her ability to easily relate to and understand where people are coming from. From me it would be my humour, being able to have a laugh and not take things too seriously. We have a lot of fun and laughs in our house.

Has your wardrobe evolved since becoming a father?

Yes, my wardrobe has evolved into a work of art...covered in paint. We definitely don't dress up as much. These new V&W Unisex tracksuits are the perfect inclusion into my everyday wear. It's all about comfort.
With the stage 4 lockdown in Melbourne, your landscape business is on pause. How are you sharing Winston's at home daycare with Ivana?

When Ivana needs downtime I take Winston to paint or do work on the house or garden outside with me. I find things to keep Winston interested in learning. It's all very activity based. We've just finished building a treehouse together.
When did you start your landscaping company and what's your specialty?

Since 2001 and our speciality would have to be crazy paving, working with bluestone or slate.
What is your favourite pastime with Winston?

My favourite pastime with Winston is having him by my side while we garden together. He'll do his own thing and then pass me tools. Then if I can get a snuggle out of him that's a bonus.