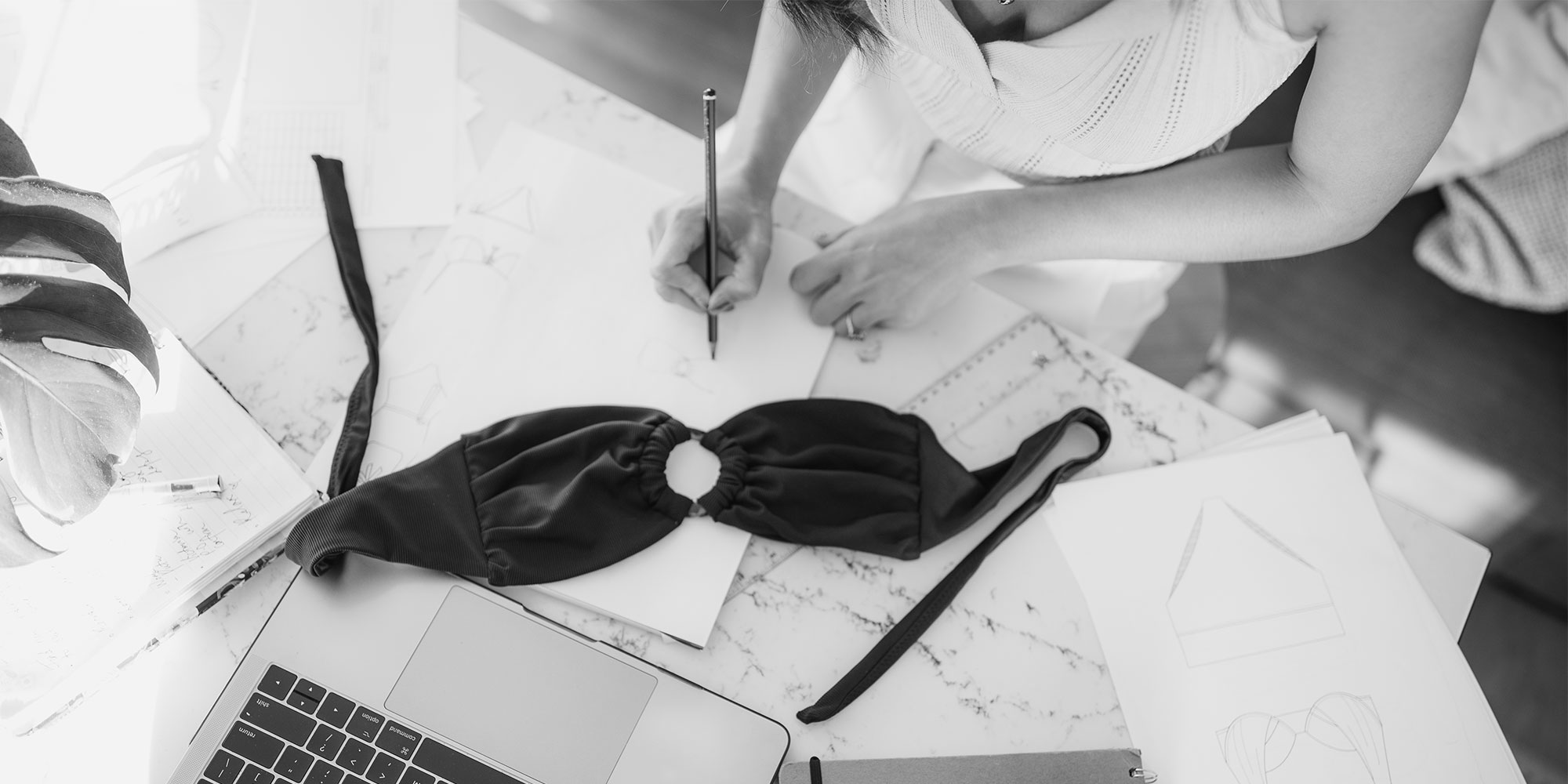 V&W PORTRAITS
KAT FUREY, PALM SWIM
Meet the woman behind sustainable swimwear label PALM. Kat reflects on her career journey, inspiration and approach to sustainability.
Introducing our second PALM X V&W collaboration. A limited edition edit of modern, sustainable swimwear. Each piece inspired by our Resort 21 palette to complement your summer wardrobe.
The use of regenerated fibres in PALM swimwear aligns with our own values and we are very honoured to be collaborating for a second collection. What inspired you to start a sustainable swimwear label six years ago?
I'm also so grateful for the opportunity for PALM and Viktoria & Woods to work together. So, thank YOU!
The focus for me has always been to develop PALM as a sustainable brand. This means that ethical and sustainable principles are at the heart of everything we do.
When I started the brand in 2013, conversations about fashion and sustainability were rare but I had just started studying my Applied Science degree and I was particularly interested in advances in design, manufacturing and sustainability. My focus was on the most important aspect of swimwear: the fabric.
High quality recycled swimwear fabrics were just starting to emerge, and I came across ECONYL®, a 100% regenerated nylon fibre made from fishnets and other nylon consumer waste products. It is also incredibly durable and has excellent shape retention, meaning our swim will not only last longer, but will wear well and not bag over a long period of time.
Since then, I have extended this to our accessories, swim tags and packaging. We continue to search for the most sustainable and responsible suppliers for our collections.
We love the 'made to order' aspect of PALM for its responsible approach to minimising waste. Can you tell us more about how this model started and why it's so important?
Over the last three years, we have worked really hard to develop the manufacturing side of our brand. We worked with our partners in Bali, Indonesia to develop our own in-house production facility and our expert team of PALM technicians.
We ensure that our staff members work in safe conditions and are paid with fair living wages. To reduce waste and to ensure that we do not make any more than we need, our team makes all of our pieces to order. This means that every single piece we produce is only made when a customer or store places an order with us.
In doing so, we ensure that we do not have high levels of dead stock and that we reduce the amount of energy and resources that we use.
This is important because fashion has a huge waste problem. We believe that people are starting to realise the importance of buying quality products that are loved and lived in for many seasons. The fast fashion business model is unsustainable. As an industry there has been some progress but there is still much more to improve on.
You co-founded PALM with your partner Ben. How do you balance life & business together?
In the beginning, it was really difficult to separate work life balance. As you try to grow a business, the hours you put in are endless. We have always both had our own projects outside of the brand. I have studied science and Ben has his own career projects in education.
We work together to coordinate our schedules and routines as much as possible and to ensure that we make space every day to spend quality time together. We both make a good team and have always been very supportive of one another. We complement each other's strengths and weaknesses which is very important when sharing a business.
Post lockdown, we have been spending our weekends catching up with friends or going camping and hiking in regional Victoria.
PALM swimsuits are both modern yet timeless. How is this reflected in your own personal style and way of life?
Transeasonal wear that is timeless, effortless, functional and contemporary complement my way of life.
I spent seven of the last eight years travelling between different places and growing PALM. During this time, I really learnt how to downsize and minimise my wardrobe. I have always been conscious of purchasing things that last and I value considered, well-constructed designs and fabrications.
In my wardrobe you will find a lot of monochrome basics, knits, denim and a few statement pieces (including my favourite V&W garments) for special occasions.
When I shop, I opt for high quality pieces that can be built upon and up-styled.
I also love second-hand shopping and feel lucky to have access to such beautiful vintage-wear in Melbourne. The longer the lifespan of a garment, the better for the environment as it doesn't just end up in landfill.
We love your selections from our Resort 21 collection. Why did these styles appeal to you and how will you wear them back with your wardrobe?
I really couldn't choose from such a beautiful Resort 21 collection. Well done!
In the end, I chose pieces that best reflect my personal style and that could be worn every season. I am always overwhelmed by your beautiful tailoring, fits and fabrication. I had my eye on the region crop for a while. I love the 70s halter style in blue.
I also loved styling the Poetry shirt and the Region crop pant as a set. It's a refreshing and contemporary take on a classic white suit, dressed down with my favourite suicoke sandals. This can also easily be worn with a crop and sneakers or a PALM suit and sandals for a resort beach to bar look.
You usually split your time between Australia & Indonesia where PALM swimsuits are made. How does having two homes in different countries influence your designs?
I think this has given me an open perspective to fashion, and I am subconsciously always influenced by what I have seen and experienced around me. I am inspired by the skilled craftmanship I have experienced in different places, for example intricate hand beading in India and textile weaving and ikat in Bali.
I have also found the mix of different cultures and diversity on my travels a powerful influence. My main inspiration, however, is Australia. I feel so lucky and fortunate to have grown up by the sea in Western Australia. To me, Australia is truly one of the most beautiful places in the world with such diverse landscapes and unique wildlife.
It feels like after all our travels we have come back with a new set of eyes and appreciation. We want to reflect this in our brand and pay respect to the ease and serenity of Australian coastal life.
We understand that PALM has recently partnered with an environmental initiative to donate a percentage of profits. Can you tell us more?
In place of Black Friday sales and over the following week, we collaborated with the Australian Marine Conservation Society to share their incredible conservation work to save and protect our ocean and its vulnerable marine life.
Ongoing, we are currently in discussion to align with an environmental initiative to make a donation from every sale made on our website.
Many sustainable brands spend their extra dollars on employee initiatives, fair and living wages for workers and donations. We are forever trying to improve our sustainability initiatives. We will be announcing this partnership in the near future. Stay tuned!